Old News:
Peter Krag Joins PSJ:
Peter has stepped in to fill the enormous shoes of Andrew, who moved to the West Coast. Peter is a young lion that plays with both fire and sensitivity. He has melded with the group just perfectly and we are so glad to share the stage with him.
Andrew Moroz Joins PSJ:
Andrew Moroz has joined the band on keyboard, filling the massive void left when Dan Skea took leave in January. Andrew is a delightful musician and has a personality that is a perfrect match for the group. He is also a terrific trombone player and music educator.
Jake Whitesell Joins PSJ as Saxman:
We are pleased to announce the addition of Jake Whitesell to the front line of the band. Jake is a recent transplant to Vermont and we are lucky to have him. Jake plays tenor saxophone, alto saxophone, and flute. Brian McCarthy has stepped down to concentrate on his own band and to promote his debute CD project that was released in April 2011. We all wish Brian the best of luck!
Jeremy Hill Joins PSJ as Permanent Bassist
After years of filling in with the band, bassist Jeremy Hill has agreed to come on as the perminent bassist. Jeremy replaces Justin Rose, who has decided to pursue other adventures. Justin helped to form the band back in 1998 at his sculpture studio on Pine Street in Burlington. In recent years, Justin has enjoyed becoming a staff musician and piano tuner aboard the Queen Mary II and is currently sailing around the globe.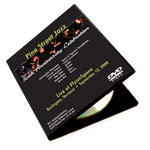 NEW! Pine Street Jazz DVD
It's been a long time in the making, but the first-ever PSJ DVD video is finally here. Recorded live at FlynnSpace in 2008, this event was to celebrate the band's 10th anniversary. The DVD includes the entire evening's performance - almost two hours of music. If you'd like a copy, just stop by our next gig or . The DVDs cost $15 each (plus shipping).
Pine Street Jazz will be appearing once a month at On Tap Bar & Grill (formerly the Lincoln Inn) in Essex Junction, VT. Check the dates and times.
Update: The Lincoln Inn closed on October 3, 2009
With great sadness and regret we discovered the truth of the old adage, "all good things must come to an end." After a wonderful three-year period of playing every week at the Lincoln Inn in Essex Junction, we were informed that their Sunday evening jazz presentations would be discontinued. Our last performance at the Lincoln Inn was on September 13, 2009.
There are no doubt many reasons for this development, including the recent economic downturn, but the main factor is probably the Inn's decision to adopt a format that does not include food offerings.
Known widely as a bastion of live music in Vermont, the Lincoln Inn has presented local bands seven nights a week for many, many years, and has rightly earned the respect and gratitude of the local music community. The Inn's management is justifiably proud of this accomplishment, and deeply regrets the unavoidable sequence of events that has led to the current situation.
Since June 4, 2006, Pine Street Jazz has played 154 rewarding Sundays at this wonderful venue. We are extremely grateful to have had this opportunity, and thankful to the Inn's management for their consistently warm and friendly support, and for always making us feel like "part of the family."
We are also most grateful to you, our loyal fans, for your steady support and encouragement. We will continue to keep you informed via our monthly newsletter.
Meanwhile, we're considering placing a notice in the papers: "Wanted - nice restaurant/bar/lounge in the greater Burlington area to employ top-flight jazz sextet on a weekly basis. Band can also supply a rotating cast of the area's best jazz vocalists. Terms negotiable."
Thanks again for your friendship and understanding.
Carl, George, Justin, Brian, Dan and Nick
---
August 2009 - Pine Street Jazz bids farewell to our former saxophonist, Chris Peterman. Chris is super busy leading his own band and maintaining a fulltime job as a manager with Symquest Group. On top of all that, he plays with several other bands in the area. Chris joined Pine Street Jazz in February 2004 and his wonderful playing will be sadly missed. Brian McCarthy has stepped in to fill the saxophone position going forward. We're excited to welcome him aboard.
---
2008 marks the 10th year of what has become a prominent institution within the Burlington area music scene. The group Pine Street Jazz grew from humble beginnings in a small studio on its namesake thoroughfare to become one of the most skilled, flexible, and enjoyed jazz ensembles in the region. The six-piece band blends jazz standards, original compositions, and lesser-known jazz gems into a swinging, lyrical, and sizzling program. The 10th Anniversary Celebration performance at FlynnSpace on September 12 was a tremendous success. Thanks to all who attended!
---
Pine Street Jazz 10th Anniversary Celebration
at FlynnSpace, 147 Main Street in Burlington
Friday, September 12, 2008, 8:00 PM
Admission: $16 Adults ($12 Students)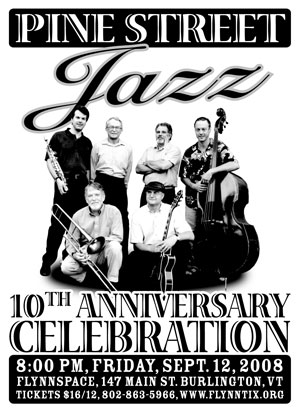 2008 marks the 10th year of what has become a prominent institution within the Burlington area music scene. The group Pine Street Jazz grew from humble beginnings in a small studio on its namesake thoroughfare to become one of the most skilled, flexible, and enjoyed jazz ensembles in the region. The six-piece band blends jazz standards, original compositions, and lesser-known jazz gems into a swinging, lyrical, and sizzling program. Join the celebration with Pine Street Jazz and an extraordinary anniversary performance.
---
Pine Street Jazz will celebrate the release of trombonist George Voland's new CD "Remember Beauty" at the Lincoln Inn on Sunday, March 9, 2008. George and the band will be joined by world-renown jazz flutist Ali Ryerson.
---
Pine Street Jazz, along with many members of the Singers' Circle, will perform a benefit for the FlynnArts Jazz Combo Program on Friday, August 10 at 8:00 PM. This special performance will feature swinging, lyrical, and sizzling jazz with vocalists Jody Albright, Amber deLaurentis, Elizabeth Dotson-Westphalen, Taryn Noelle, Susan Squier, and Matt Wright. Tickets are $20 Adults / $15 Students.
---
Bassist Justin Rose has returned from his performance duties aboard the Queen Mary II where he performed seven nights a week for about three months as the ship went around the globe.
---
Pine Street Jazz will be appearing as part of the Discover Jazz Festival Jazz in the Park concert on June 1, 2007 in Burlington's City Hall Park. More details to come.
---
The Dan Skea Quartet, featuring members of Pine Street Jazz, has released a new CD entitled But That Ain't This. This terrific recording should be available at local retailers beginning in January 2007. As you may know, Dan has performed, composed, and arranged with Pine Street Jazz since 2003. Joining him on this recording are Chris Peterman, John Rivers, and Geza Carr. The CD features twelve masterful compositions by Dan plus tunes by Chri, John, and Juliet McVicker.
---
We're getting along without Justin Rose, our bassist and a cofounder of the group. Justin is once again sailing the high seas, having taken a seasonal gig aboard the Queen Mary II. The QMII will take him and his cocktail lounge jazz combo along during the her maiden round-the-world trip. We look forward to Justin's safe return in late March and appreciate the fine bass players who have been willing to cover during his absence (John Rivers, Russ Flynn, and Ed Owens).
---
PSJ wishes to thank George Thomas and Sam Sanders at VPR for hosting us so graciously during our live broadcast performance on April 25, 2006. George and Sam took great effort to make us feel at home and provided an opportunity for the group to play to a wider audience than ever before. The show was a blast and we look forward to doing it with them again in the future.
Click here to listen to the show and see some photos.
We also extend our thanks to the congregation at Faith United Methodist Church in South Burlington. The folks there continued a long-standing annual tradition of featuring local jazz artists in a musical worship service on May 14, 2006. The group, along with featured vocalist Jody Albright, played in a wonderful collaboration with the church choir, and all shared in a morning of music joyfully offered and received. We look forward to playing with you all next year, and to seeing you at area shows.
---
We're sad to report that our Wednesday night series has ended at Parima. We got the word from the management on April 6, 2006 that they were going to focus their efforts on weekend shows. It seems that there was a little too much mid-week jazz happening in downtown Burlington to warrant continued support of a six-piece band plus vocalist. This brings to a close a series that has lasted (with only two brief interruptions) since March 2002.
Watch for details on our special tribute to Duke Ellligton. The date and location will be announced soon. Pine Street Jazz is assembling a wonderful program of music by this legendary composer.
---
The 2005 Burlington Discover Jazz Festival is rapidly approaching. In addition to our regular Wednesday evening performance at Parima, the band has a couple of very special features that you'll want to check out. To help kick off the first weekend of the Festival, PSJ will present a tribute to Horace Silver featuring vocals by Jody Albright and Matt Wright on Friday, June 3, 2005. On the following night (June 4) the band will present an encore performance of its tribute to Thelonious Monk which also features vocalist Matt Wright. Both shows are at Parima. Check out our performance schedule for more information.
---
"The Blue of Night," Juliet McVicker's latest CD, leads off with the title tune, a haunting ballad she composed with the album's bassist, John Rivers. Also featured are Tom Cleary on piano and Steve Wienert on drums. Trumpeter Jennifer Hartswick joins in on two selections, and Pine Street's own George Voland contributes a signature trombone solo on "Under a Blanket of Blue." A highlight of the album is Cleary's arrangement of "You're My Thrill," a fascinating and quirky treatment of the tune that Juliet, with good reason, has nicknamed "Thrill-ski."
"The Blue of Night" is available locally at Borders Books, as are Juliet's previous releases, "Pull Down the Moon" and "Little Jazz Bird."
---
Pine Street Jazz performed at First Night Montpelier between 6:00 and 7:45 PM on December 31, 2004 in the Bethany Church sanctuary. PSJ was delighted to be among the lineup of superb and diverse artists that entertained during the Capital City's New Year's celebration.
---
On Wednesday, February 25, 2004 the Pine Street Jazz band bade a sad farewell to vocalist Johanna Lawrence. Lawrence, who has been singing with the group since 1999, has relocated to Hawaii. Her lush and sultry voice has been a delight to audiences and musicians alike, and she will be sorely missed.