The Blue Gardenias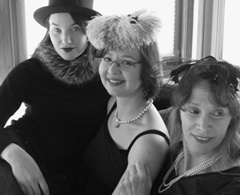 Blue Gardenias Bio
Just as sweet as a bouquet are the three-part harmonies of Vermont's Blue Gardenias: Juliet McVicker, Taryn Noelle, and Amber deLaurentis. In addition to performing originals, their repertoire crosses through jazz, country, and rock, with standards such as "Mood Indigo," "Sweet Dreams," and the Beatles' "Things We Said Today." This floral – or, shall we say, choral – arrangement is truly unique because of what each lady brings to the table.
Juliet is persistently drawn toward songs that are slightly off the beaten path, or in some cases, songs that must be teased out of their hiding places. She has played at the legendary Cafe Lena in Saratoga, N.Y. and Club Salt in Newport, Rhode Island. She has opened up for many vintage songwriters, such as Eric Anderson, Ritchie Havens, Bill Staines and David Bromberg. "Singing with the Blue Gardenias is a dream coming true, songs of every size and shape. Harmonies that are genuine, funny, beautiful. Real, big, fun," says McVicker.
Taryn Noelle, originally hailing from Toronto, Canada, spent her high school years in Stowe, VT. She then headed off to the big apple and studied theatre in New York for a few years. She is now a happy resident of Burlington, where she is afforded the opportunity to work in one of her favorite fields, that of teaching dance and working as a choreographer. Taryn teaches many styles of dance, and is currently training to compete as a Ballroom and Latin dancer. Musical theatre introduced Taryn to the world of jazz voice, where she self released and recorded two records. The first is entitled "On My Way to You" and the second, "There Was a Boy," was recorded live in Stowe, VT. Along with working on a third record due out next year, Taryn has the greatest fortune of singing and working with two of her best friends as well as favorite performers, Amber and Juliet. "It is a perfect blend of friendship, music, laughter and inspiration. What a joy and a treat, and what a lucky girl, am I?!"
Originally from Philadelphia, pianist and songwriter Amber deLaurentis has compiled a considerable resume; her band won best out of 1,200 in the Discmakers Independent Music World Series. The songs of deLaurentis and long-time lyricist Sarah Blue also led to a second place finish in the Billboard International Songwriting Competition and honorable mention in the John Lennon Songwriting Competition. Their first CD, "By George," was voted best live album by Just Plain Folks. deLaurentis has opened for Marshall Crenshaw, Dan Hicks and His Hot Licks, Patti Larkin, Alana Davis, and Entrain, to name but a few. Amber is currently promoting her first full-length CD, "Hey Sadie," released in March of this year. Says deLaurentis of her experience with the Gardenias, "This group offers a perfect balance of spontaneity and preparation: fun, but always challenging. This has been one of my favorite collaborations.